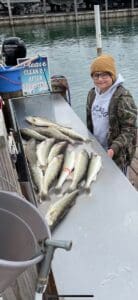 Walleye Run
We are halfway through our Walleye season that started out a bit earlier this year and having success even with the colder temps that started out, they were on a pretty good bite.
We have had some challenging conditions to deal with this year… Whether it's the weather throwing her last at us or the windy days of Spring. The border closures in Canada have limited us to the Michigan side of the river. While that really handicaps our ability to fish where we want and have had great proven success, we have adapted by going to the best spots that we are able to fish and utilizing different techniques at different times and conditions to maximize our success.
The recent weather and limitations have shown us a few tough days, but things have started to bounce back and the Walleye Run is just getting to a full swing with plenty of post spawn Walleye running the whole Detroit River system. Weather and waters are warming up daily and so should the action.
We still have some openings if you want to fish some "eye's in the D"!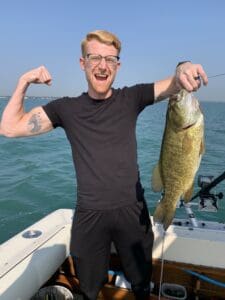 Spring Bass
The Bass have been up in the shallows staging and on their beds for the Spring spawn. We have had good reports and are gearing up to get into some action.
We are launching the big boats to start our Bass season and will be running trips from the start of May-Aug.
If you haven't set up your Spring trips yet but want to get in on the action, give us a call while we still have available dates.
Tight Lines, Capt. Kevin