See what our clients are saying about Mr. Muskie Charters. Click here to submit your own testimonial.
Great Day Fishing with my sons and grandson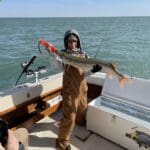 Big thanks to Captain Matt and First Mate Anthony. My two sons and my grandson helped me celebrate my 65th Birthday by going Muskie fishing. My grandson had the time of his life. Thanks again to the crew and Mr. Muskie.
James Marchetti
Great experience for father/son outing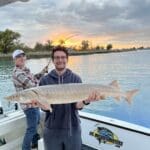 Big thank you to Captain Jeff and Cord for an amazing sturgeon fishing trip! My son and I had so much fun. They put us on the fish right away and when there was a break in the action they were always attentive to us while making sure we didn't miss any opportunities to land a fish! Thank you again for making the trip memorable for us both, and we will make sure to be back next summer for the Muskie!
Robert Morgan
Me my wife, My brother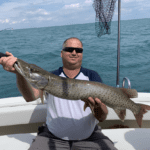 Me my wife, My brother and his wife set out with captain Mark (I think) lol and first mate Dennis . We only caught 3 Muskie but wow was it an awesome experience. My wife ended up with the biggest at 50". Our captain and first mate worked there rails off changing lures throughout the day . It was a tough bite but they made the best of it and got us some fish . What an absolute blast and yeah we will be back next year ! Thank you Mr. Muskie
Joe Patterson
Thanks to Captain Jeff and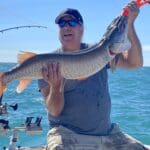 Thanks to Captain Jeff and Matt for a great day on the water. Yea worked really hard to get us on and keep us on the fish. It will be a great memory for us all.
Leonard Olson
Thank you for All Your Efforts Captain Kevin!
Captain Kevin recently helped my family and I commemorate a very special memorial event on a very comfortable and well equipped Mr. Muskie Charters boat.
Kevin organized everything exceptionally well down to the finest of details, assisted above and beyond at all times, and took part to make it very meaningful and successful.
We are very grateful to you Kevin for what you and your company have done for us and will definitely recommend others to you!
Michael Edwards
Great Memories!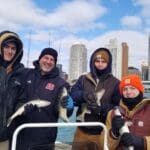 Another absolutely wonderful trip walleye fishing with my boys! I can't thank Captain Matt and Captain Kevin for the wonderful day out on the river, first class treatment, first class fun! They knew exactly where to go, caught our limit quickly, lots of laughs, lots of fish! Thanks to these guys for giving me such great memories and such a great time. Will definitely be out again with them.
Joe DiPonio
AWESOME TRIP
Thanks to Captain Jeff, and assistant Dan and Trainee Andrew for an awesome day on Lake St.Clair. It was a thrill for our group to catch a large Northern Pike and a couple of really nice Muskie. We enjoyed to time with your crew and the great effort to make our day of fishing for these elusive swimmers a great experience. We will be back!
Al Teskey
Captain Matt is the best!
Coming from Virginia and being spoiled on saltwater fishing, this was an amazing trip! Not only did we catch a bunch of fish, but Captain Matt was fantastic with my 10 year old nephew. He was patient and always willing to let Adrian help him, regardless of the task. He was knowledgeable about the river, and over all, a very genuine person. Very refreshing to have such a great guide! We will be back!!
Rebecca Panis
World Class Muskie Charter
If you fish Muskie, you don't want to miss a trip with 3rd generation Mr. Muskie on world renowned Lake St. Clair. These guys know exactly what they are doing.
They get results. For 6 hours we had fish on the finder. And boated 5 Muskie (46, 43, 40, 37, 32)and 2 small jaws bass. I have been fishing over 65 years and I give this trip 5-stars.
(Norwood party 07-25-2020 a.m. 6 hours)
LARRY MICHAEL
Catch of a Lifetime!
This was a great experience for the whole family, we got lucky and caught a bunch of fish my wife was exited to be able to take home a bass and a walleye!! Captain Kevin and captain Jeff were awesome! We will definitely come back, thank you for a memorable time!!
Leo
Awesome Trip!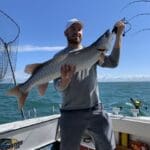 Me and my group did a Muskie trip. The crew was as good as it gets. They worked as hard as I've ever seen any two people work to get us on fish. Fish were tight lipped but captain got us on a couple. Couldn't have asked for a much better experience!
Eric DeJager
Crew Made the Sturgeon Experience Exceptional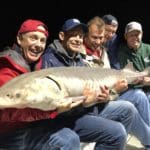 Five of us went out on a cold rainy Sunday night and came home with a warm memory that will be with us the rest of our lives. To start, we caught a beautiful 28" golden channel catfish. I didn't even know they existed in that color. Then came the monster. An hour and fifteen minutes of pure thrill, up came this magnificent 68" sturgeon into the boat. The crew, captain Keith and Jeff, were very accommodating. And even though our 4 hour time slot was up, they still wanted us to fish more, and so we did. Another beauty found it's way onto the boat, about 61 inches. Sturgeon. We left at almost 10:30 last night when it should have ended around nine, but they wanted us to have a great night. And that we did! Thank you Mr. Muskie Charters!
Ed Mckenna
Collette Vacations
Trip of a Lifetime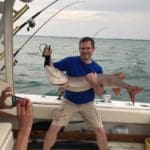 Just wanted to let you know how much we enjoyed the charter this past Monday.
The fishing was excellent -we each caught and released a muskie in the 25-30 lb. class!
The crew was great-knowledgeable, energetic ( they hustled!)- and just cool to hang out with.
Paul ans CREW
Another Fun Charter with Mr Muskie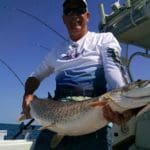 Yesterday was another fun day on Lake St Clair with Captain Keith. We were after muskies on a perfect afternoon with a storm front on its way. Keith found them hanging around bait piles. We landed 3 good muskies, a nice 30″ pike and a walleye. We had several other muskies hit the lures.
Anytime you have good chances to catch muskie and get a couple of bonus fish, it's a good day on the water.
Keep up the good work guys.
Until next time, Fish On!
DAVID J BRINK
Fred M. Henegar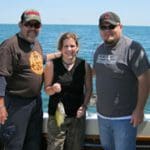 Captain Kevin,
What a great time that was had by one and all. This was the first fishing trip I got to take with my granddaughter Tiffany and it is one to be remembered. I thought I would share some of the pictures we took that day. I think we added up all the fish we caught and it was 92 give or take a couple, what a day.
Thanks again for a great day on the water and one special day in my memory bank. (Ben – 33, Tiffany – 32 and Fred – 27) I look forward to fishing with you again, maybe the next time for those toothy critters.
Allen and Randy
Captain Kevin and First Mate Keith,
Thank you for a terrific day of fishing. The two of us caught and released 10 Muskie ranging from 28 to over 42 inches. The trip exceeded all expectations because of your first-rate equipment and the knowledge/experience that you shared with us. We will definitely fish with you again.
Thank you again for the Muskie fishing trip of a lifetime.
Eugene
Kevin, can't tell you how much of a great time we had and what a class A operation and guys you have working for you!!
Top notch! Thanks again for everything and I will definitely come back and recommend your charter service!!
Rick
Capt. Kevin – Mitch and I had a great trip on Monday. Thanks for the fishing.
I thought you might like this picture from your "lure color consultant".
Hope you have great fishing for the rest of the season.
Bruce B.
We just wanted to let you know Keith and Dan are a great crew. We have been on many charters and you can really tell who is trying to put you on fish and who is just giving you a boat ride. Those guys are devoted fisherman (they constantly checked baits, changed baits, explained techniques, etc.). We really appreciated their level of professionalism and effort. We are already talking about fishing again with Mr. Muskie Charters. Thank you again and we look forward to seeing some Muskie hits!
Tracy W.
I became a member on Tuesday with Capt. Keith and Dan.
I would highly recommend a trip with Mr. Muskie Charters, it was an awesome experience with a great, professional crew.
Scott
Sure enjoyed our trip with Capt. Keith.
See you next year.
Thanks again.
Al
Thank you for the very nice time on Lake St Clair yesterday. We had a very enjoyable day fishing with you and Jeff. Thank you for helping my wife catch her first Muskie. I am certain she will be the hit of her golf, bridge, and lunch friends.
Thanks again.
Robert
Last night was the greatest fishing of my life! I am sure you have heard the unbelievable, record-breaking evening, and it was all true! 9 total Sturgeon measuring out to 555 total inches. Two were over 72 inches 2 had tags and 2 were 64 inches. It was a great evening and we had a great time. Thank you for another amazing fishing trip. Make sure Captain Keith sends me those photos. I have been known to tell a couple of fish stories, so I need those pictures for proof.
Until our next trip!